Full House (2004)
By Foolish Asian Drama Life - agosto 30, 2018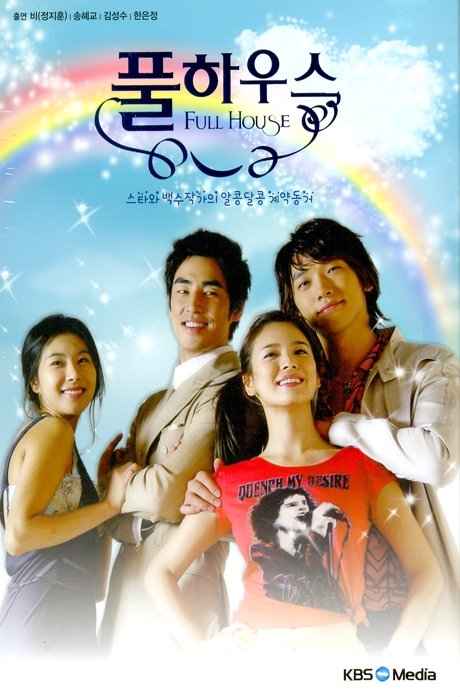 Title: Full House 풀하우스
Also known as: Pool Ha-woo-seu
Genre: Romance, Comedy
Episodes: 16
Director: Pyo Min Soo
Network: KBS2
Broadcast period: 2004-Jul-14 to 2004-Sep-02
- Related to (link)
Full House (2004)
Full House วุ่นนัก รักเต็มบ้าน (2014)
CAST
Song Hye-kyo as Han Ji-eun
An optimistic and cheerful girl who lives in the "Full House", which she inherited from her parents.
She is an aspiring writer.
She ends up marrying Young-jae under a contract marriage in order to keep the "Full House", but later falls in love with him.
Bi Rain as Lee Young-jae
A popular Korean actor. Though appearing to be egotistical and stubborn, he cares deeply for his friends.
He possess secret unrequited feelings for his childhood friend, Hye-won but later falls in love with Ji-eun.
He has a fragile relationship with his father, who is a doctor.
Han Eun-jung as Kang Hye-won
A close family friend of Young-jae, who knows him since childhood.
Working as a fashion designer, she also designs most of Young-jae's clothes.
With her wealth and looks, she is accustomed to attention from men, but has ever only loved Yoo Min-hyuk.
She is selfish and manipulative, and attempts to hold on to Min-hyuk and Young-jae at the same time.
Kim Sung-soo as Yoo Min-hyuk
A ladies' man, he is smart and rich, but remains detached from people because of his busy lifestyle.
He is also close friends with Young-jae, who confides in him his feelings for Han Ji-eun. Min-hyuk is a director of a large media company.
He develops feelings for Han Ji-eun, and tries to get her to like him.
Eventually, he sees that she can love no one else but Lee Young-jae.
Jang Yong as Mr. Lee, Young-jae's father
Sunwoo Eun-sook as Mrs. Kim, Young-jae's mother
Kim Ji-young as Young-jae's grandmother
Lee Young-eun as Yang Hee-jin, Ji-eun's friend
Kang Do-han as Shin Dong-wook, Hee-jin's husband
Im Ye-jin as Dae Pyo, Young-jae's manager
PLOT – TRAMA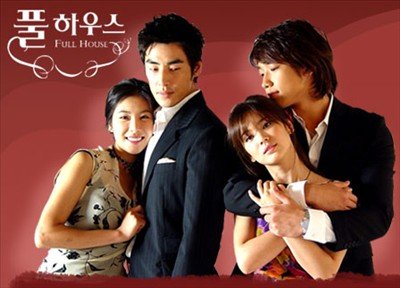 Han Ji Eun, an aspiring scriptwriter, lives in a house called "Full House" built by her late father.
One day, her two best friends trick her into believing she has won a free vacation. While she is away, they sell her house.
On the plane, she meets a famous actor named Lee Young Jae.
Through comedic events, they get acquainted during her vacation and when she returns, she discovers her house has been sold to him.
Though they don't get along with each other, as she is messy and he has a bad temper and likes cleanliness, they agreed to live with each other.
At first, Ji Eun works as his maid in order to buy her house back, but because of Young Jae's wish to make the love of his life, Kang Hye Won jealous, they get married.
They set up a contract for the marriage to last six months.
During that time, complications arise and Ji Eun and Young Jae become attracted to each other.
AWARDS
2004 KBS Drama Awards
Top Excellence Award, Actress - Song Hye-kyo
Excellence Award, Actor - Rain
Popularity Award, Actor - Rain
Popularity Award, Actress - Song Hye-kyo
Best Couple - Rain and Song Hye-kyo
OST
Full House (Inst.)

운명 [Fate] - WHY

Forever (Inst.)

시 (Inst.)

친구란 말 [The End of Being Friends] - Noel

운명 [Fate] (Full Slow Inst.)

Blue Hills (Inst.)

운명 [Fate] (Slow Ver.)

I Think I Love You (Guitar Inst.)

늦게 핀 사랑 (Too Late) [Love Bloomed Late (Too Late)] - G-Soul

Forever - WHY

운명 [Fate] (Semi Slow Inst.)

Love at the Gate (Inst.)

고마워할게요 [I'm Thankful] -

Byul

늦게 핀 사랑 (Too Late) [Love Bloomed Late (Too Late)] (Violin Inst.)

Amazing Love (Inst.)

Paradiso (Inst.)

운명 [Fate] (Inst.)

처음 그 자리에 [The First Time in the First Place] -

Lee Boram

타이틀셔플 (허밍)

샤랄라 (허밍)
NOTES
Based on the Manga, Full House by Won Soo-yeon
DRAMA LINK (Eng Sub)
https://kissasian.es/Drama/Full-House
LOCANDINE - PHOTO PREVIEW